News
American Trailer Works Manufactures Three Millionth Trailer
May 31, 2016 - By Aaron Barnes
American Trailer Works (ATW), North America's largest manufacturer of utility and cargo trailers, announced today that it had reached another milestone in the trailer industry with the manufacture of its three millionth trailer. ATW, which manufactures trailers at 12 locations across North America under the Carry-On, PJ, RC and Middlebury Trailer brands, built its 3 millionth trailer at its new aluminum trailer manufacturing plant in Missouri Valley, Iowa.
John Burgess, Group President of Utility Trailers for ATW said: "At ATW, we always strive to be the first in the industry in innovation and customer service. So this is a historic day for ATW and for the North American trailer industry, as we are the first company to reach the 3 million trailer mark. This is a testament to the dedication of all of our employees at each of our 12 plants, the contribution of all of our brands - PJ, Carry-On, RC and MTI - to meeting customer needs, and - most importantly - the strength and commitment of all of our dealers and retail partners. It is a privilege to serve them each and every day.
ATW will commemorate the event by hosting lunches for employees and guests at all 12 of its plants and will include many suppliers and customers in the celebration. Rob McDevitt, Vice President of ATW for Human Resources, noted: "Each one of our employees contributes so much every day to serving our customers, and this is a small way to thank all of them for everything they do."
ATW also marked the event with an initial $50,000 donation the Navy Seal Foundation to support the families of SEALs. The 3 millionth trailer will be on display at the North American Trailer Dealers Association (NATDA) trade show, which will be held in Nashville, Tennessee from September 9-11, 2016. Each dealer attending the show who autographs the trailer will generate an additional $50 donation from ATW to the Navy SEAL Foundation. After the show, the trailer will be permanently housed at Carry-On Trailer's headquarters in Lavonia, Georgia.

Dana Goff, Vice President of Carry-On brands, said: "We are deeply honored to support the families of the SEALS, and we are proud to support the Navy SEAL Foundation in its mission to help the surviving members of our fallen heroes. We are also hoping for record attendance at NATDA so the industry's dealers can help drive additional donations to the Navy SEAL Foundation."
About American Trailer Works
American Trailer Works is the largest manufacturer and distributor of utility and cargo trailers in North America. Through its 12 plants, American Trailer Works sells trailers through independent dealers and big box retailers under the PJ Trailers, Carry-On Trailer, RC Trailers, Middlebury Trailers and other private-label brand names. More information about the company is available at www.americantrailerworks.com.
---
83" High Side Dump (DH) with 3ft & 4ft sides
October 2, 2015 - By Aaron Barnes
We are pleased to launch the brand new 83" High Side Dump (DH) model. The DH features 10 gauge solid sides in the 3ft and 4ft heights. The solid sides allow users to haul bulkier cargo like trash and brush, without the need for dump side extensions. The DH dump is in full production at both the Texas and Ohio plants.
Monster Steps
February 13, 2015 - By Aaron Barnes
The MONSTER STEP is the new standard gooseneck PJ side step. These steps are super wide and offer more traction than any other step on the market.
---
Blackwood Rubber Infused Lumber
May 28, 2014 - By Aaron Barnes
We are the first trailer builder to offer Blackwood Rubber Infused Lumber as a decking option. Blackwood is a lumber product that contains a rubber insert that gives the lumber improved traction, durability, safety and longevity. Blackwood will be offered to the open trailer industry exclusively through PJ Trailers.
---
Texas Expansion Aerial Video
May 7, 2014 - By Aaron Barnes
Video of the new 8.26 acre expansion of our Texas facility. The building is 300' x 1200' giving us an additional production capacity. The expansion is 360,000 square feet and will increase our production area by 144%. The expansion will be complete and operating in the summer of 2014.
---
Dexter Axles Now Standard
April 2, 2014- By Aaron Barnes

PJ Trailers is excited to announce Dexter Axle our standard axle supplier across all model lines. Dexter is the undisputed leading manufacturer of trailer axles for over 50 years. Their American made axles are known for safe, reliable, and smooth performance. Read more about Dexter Axles here.
---
Fast N' Loud Appearance
September 9, 2013- By Aaron Barnes
Tonight on Discovery Channel's Fast N' Loud Aaron and Richard from Gas Monkey Garage got their first look at their new PJ 6" Channel Superwide (B6). Making the delivery are Nate and Gryphon from Western Slope Trailers in Rifle, Colorado. These guys are tough on everything they own so it only makes sense they bought the toughest trailer on the market!
UPDATE: We got quite a few phone calls, emails, comments, and tweets about which options the trailer the Gas Monkey Guys ordered; see the specs below.
Item ID: b6j2272bsnk (with options)
j: BP 2 5/16" Adjustable (14,000 lb.)
22: 22ft
72bs: 2 - 7,000# Electric Brakes / Spring Spring Suspension
n: 2' Dovetail w/ 5' Rear Slide-in Ramps
k: Black Powdercoat
4: Plate for Winch
c: 12"oc Crossmembers
d: 8 Pair D-Rings
p: 11ga Diamond Plate Steel Floor & 4 D-Rings
q: Front Toolbox (Bumper Pull)
t: Spare Tire and Mount (Bumper Pull)
v: Rear Trailer Support Jacks
Special notes: NO PIN STRIPING, CAR HAULER LIGHT BAR OPTION, WARN ZEON 8K WINCH WITH INTERSTATE DEEP CYCLE BATTERY, BLACK POWDERCOAT WHEELS (PROVIDED BY DEALER)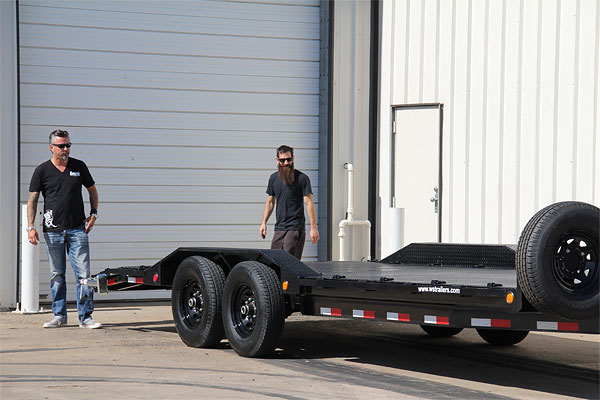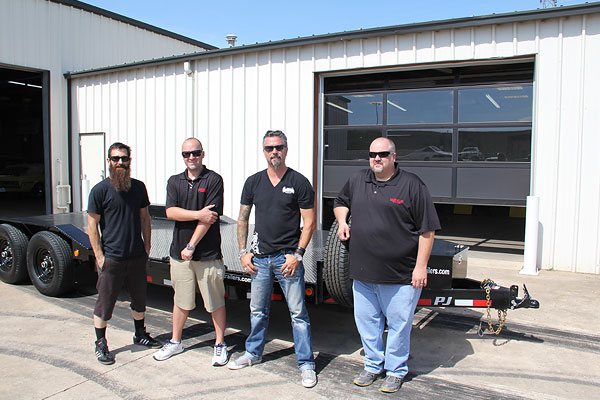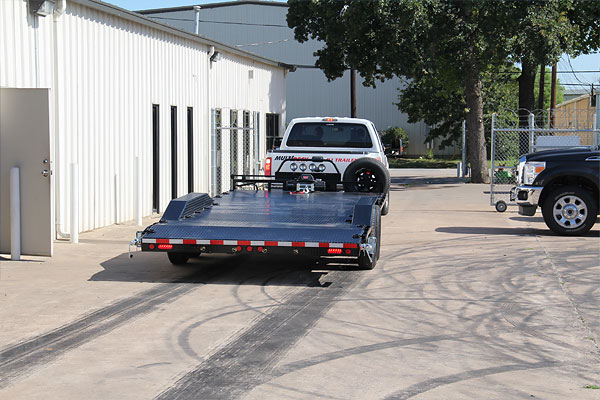 ---
Power Tail
June 3, 2013 - By Aaron Barnes
PJ Trailers is pleased to announce the launch of the patent pending Power Tail option. The Power Tail is a hydraulic powered tail that rotates a full 180 degrees to serve as a tail for loading and a deck for storing cargo. You can read more about it and see pics on our Power Tail page or check out the video below.
---
PJ Trailers Employees Win Trip to Vegas for Safety & Attendence
April 26, 2013 - By Aaron Barnes
PJ Trailers holds a safety contest to recognize our foremen and employees for their safety record. In recognition of 25,000 safe hours & perfect attendence Texas finishing foreman Jake Berg and sandblaster Teli Chaverria (a 17 year PJ employee) will be sent on an trip to Las Vegas to stay at Caesars Palace. PJ Trailers would like to congratulate the entire Texas finishing line on their great achievement.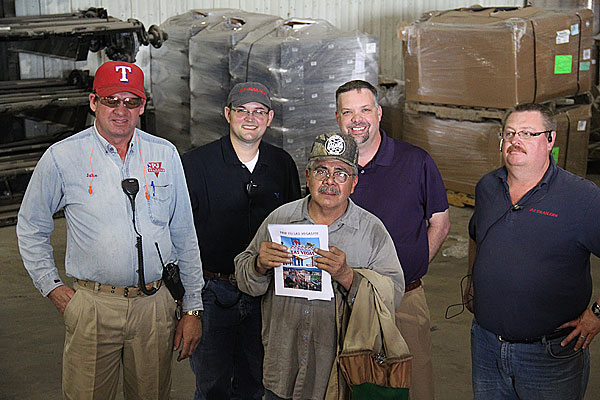 ---
Tilt Trailer Comparison
March 6, 2013 - By Aaron Barnes
\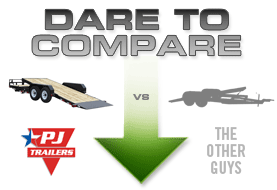 We recently launched a new Tilt Trailer Comparison to quickly compare PJ tilt trailers to other brands. Selecting your next trailer can be a daunting task so we have taken the guesswork out of what makes PJ tilts #1 by highlighting over 40 difference making features. Before you consider any other tilt trailer manufacturer, make sure you are comparing "apples to apples"!
---
PJ Trailers 2013 Vegas Challenge
February 28, 2013 - By Aaron Barnes
We hosted our second annual Vegas Challenge January 24th through 27 at Caesars Palace Las Vegas. Over 60 dealers achieved their 2012 sales target, sending over 170 guests to Vegas.
On Friday afternoon we hosted our first dealer Texas Hold'em poker tournament in Caesars poker room with 50 players in attendance. After three hours of play, Gary of Nationwide Trailers in Houston, Texas won the tournament.
On Friday evening Doug Clark (President) addressed over 180 guests at our Dealer Appreciation Dinner held in the Florentine Ballroom at Caesars Palace. Over 40 awards were presented to club level dealer in recognition of the 2012 sales.
We want to thank all of our qualifying trailer dealers for their hard work in 2012 and congratulate on their achievement.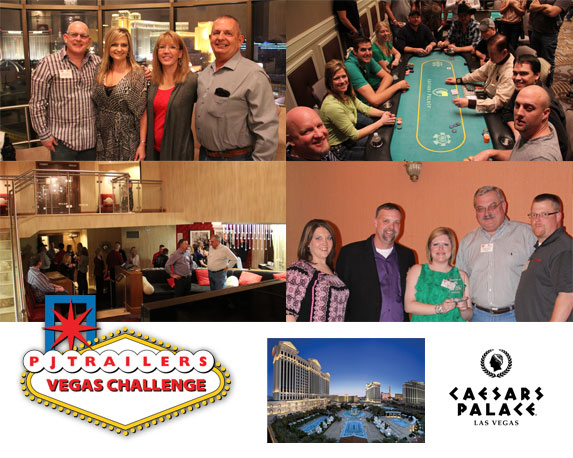 ---
New Deck on the Neck Design
December 27, 2012 - By Aaron Barnes
Our deck on the neck option (available on all goosenecks) transforms an area that is typically wasted into highly usable deck space. We recently have redesigned our "deck on the neck" option to include mitered corners for maximum cab clearance when turning. This option is quite popular for hauling attachments, tools, bales, and palleted cargo. It is also used on some hot-shot trailers since it allows the driver to carry additional cargo.
---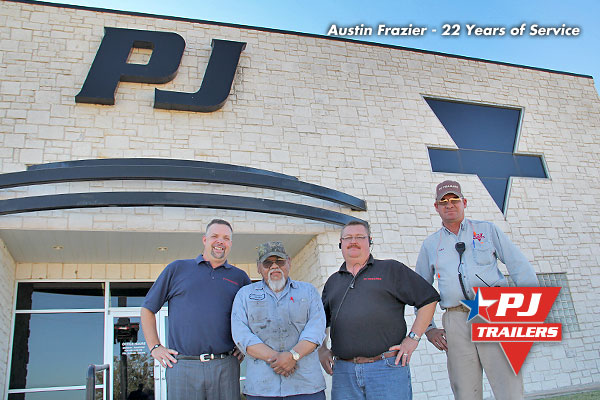 22 Year PJ Trailers Employee Austin Frazier Retires
October 31, 2012 - By Aaron Barnes
Austin A. Frazier was one of the first employees hired on at PJ Trailers. He started on June 30, 1990 with the company and has witnessed the growth over the past 22 years.
He has worked with many people over the years and has decided to retire at the end of 2012. He has worked in almost every capacity and has been a constant fixture here at our Texas facility. We want to thank Austin for his dedication to our company and congratulate him on his retirement.
---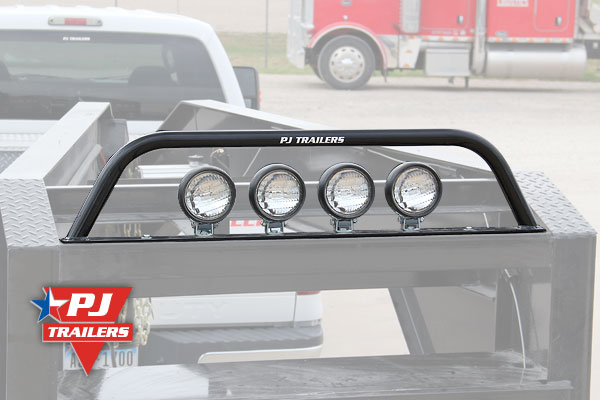 Light Bar
September 17, 2012 - By Aaron Barnes
Do you use your trailer after the sun goes down? If so, you need our new Bolt-on Gooseneck Light Bar. Driven by our customers request for factory installed work lights, we developed the trailer industry's first bolt-on light bar.
The bar quickly bolt-ons to the rear riser cross-member of your gooseneck trailer and ties into your factory junction box. This light bar gives you plenty of light to keep you working all night.
---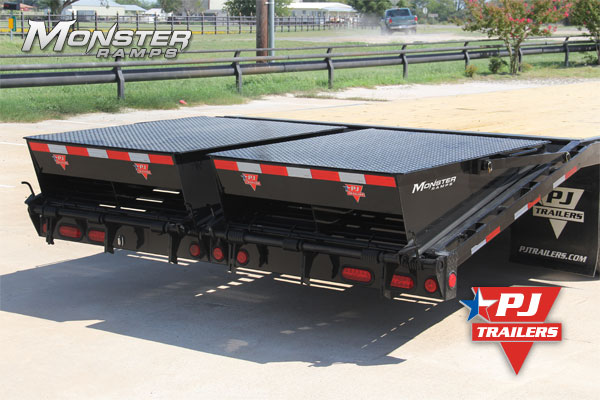 Monster Ramps
September 10, 2012 - By Aaron Barnes
Check out our new Monster Ramps option available on our FS, FD, and LD Gooseneck models. If you have got a wide variety of equipment you want to load (skid-steers, fork lifts, tricycle tractors, etc...) these are the ramps for you!
Each ramp measures 44" wide by 60" long with full diamond plate ramp bottoms. Also, don't worry about these "Monsters" being too heavy, they are spring loaded for lifting from both the deck and from the ground.
---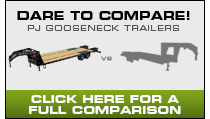 Gooseneck Trailer Comparison
August 20, 2012 - By Aaron Barnes
Please take minute and look at our new Goosneck Trailer Comparison page. We have highlighted over 40 features of PJ gooseneck trailers and how they compare to other manafacturers.
---
New Options
July 9, 2012 - By Aaron Barnes
We have added several new options to our website over the past few weeks. Here are the links to the individual pages for each option.
---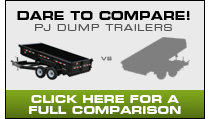 PJ Dump Trailer Comparison
June 4, 2012 - By Aaron Barnes
We want to encourage you to take minute and check out our new Dump Trailer Comparison page. We have highlighted over 40 features of PJ dump trailers and how they stack up to the competition. This guide illustrates the dozens of premium features that so many other manufacturers either don't have or only offer as high priced options.
---
Ted Friesen
May 9, 2012 - By Aaron Barnes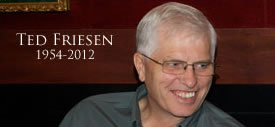 It is with great sadness that we notify you that Ted Friesen passed away this morning after a battle with leukemia. Diagnosed in August 2011, Ted and his family battled the leukemia with grace and courage.
Ted joined PJ Trailers in 1999. Over the next 13 years, in dispatch and in sales, Ted became an invaluable member of the PJ Trailer team. His ability to configure stacks of trailers was legendary within PJ Trailers and will be missed. As anyone who spent time with Ted will confirm, Ted was a deeply caring and sincere man, never putting business before the personal needs of his dealers or his coworkers. He had the ability to connect with everyone on a level that surpassed that of just a business relationship. It was a blessing for the entire PJ Trailer team to have Ted spend some time in the office in the last several weeks.
Ted has two daughters who currently work for PJ Trailers. Michelle works in our dispatch office and Kaylene is our receptionist. He also has a son-in-law, Jamie (Michelle's husband) who works in our plant. Ted and his family will always be a huge part of the PJ Trailer family. Please join us in praying for Ted's family and friends.
---
Side Load ATV Ramp Video
April 30, 2012 - By Aaron Barnes
One of the hottest options for our utility trailers is the Side Mount ATV Ramp option. Essentially the frame rails in front of the fenders are ramps that can be removed to offer side loading. This option gives you the ability to load an ATV/UTV in the front and one from the rear between the fenders.
We recommend either the U7 or U8 utility trailers depending on the length of your ATV. The ramps can also be used for golf carts, UTVs, dirt bikes, 4 wheelers, side-by-sides, lawn mowers, etc. This option is available on our 60", 77", and 83" utility trailers with lengths of 12 and 14 ft.
---
Utility Trailer Comparison
March 30, 2012 - By Aaron Barnes
Ever wondered exactly what makes a PJ utility trailer so much better than the others? See the 23 reasons why we build the best utility trailers on our brand new "dare to compare" utility trailer page.
---
Hydraulic Dovetail Demo Video
March 12, 2012 - By Aaron Barnes
Check out our Video Demo of us loading our Case IH Maxxum 130 tractor on a PJ 32 ft Low Profile Hydraulic Dovetail. Over the years others have tried to copy our design, but they keep coming up short. We build three hydraulic dovetail models, check them out on our gooseneck trailer page.
---
83" Hydraulic Quick Tilt (TH)
February 22, 2012 - By Aaron Barnes
We are pleased to announce the newest model in the PJ Trailers line, the 83" Hydraulic Quick Tilt (TH). The TH Tilt is one of the most versatile products in our model line. 83" Hydraulic Quick Tilt (TH)

---
PJ Trailer for Gold Rush Alaska Crew
February 20, 2012 - By Aaron Barnes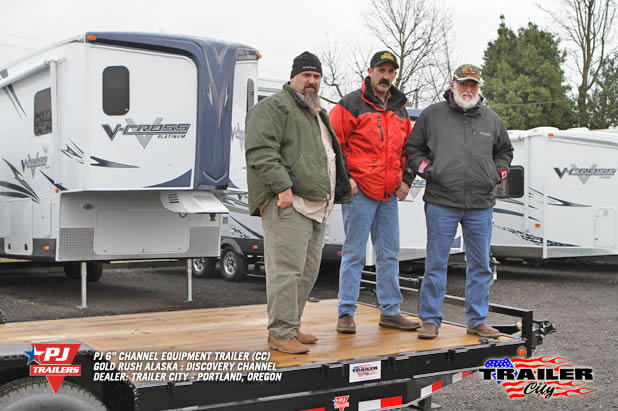 We want to welcome the crew from Discovery Channel's Gold Rush Alaska to the PJ family. Last week they purchased a PJ 6" Channel Equipment (CC) from a PJ Gold Club dealer, Trailer City in Portland, Oregon.
---
Hydraulic Jack Demo
February 16, 2012 - By Aaron Barnes
Check out this quick demo of our Hydraulic Jacks in operation. These jacks will save you a lot of time and even more energy. Once you try them out, you will never want to go back to a traditional hand cranked jacks!
---
PJ Trailers Vegas Challenge
February 13, 2012 - By Aaron Barnes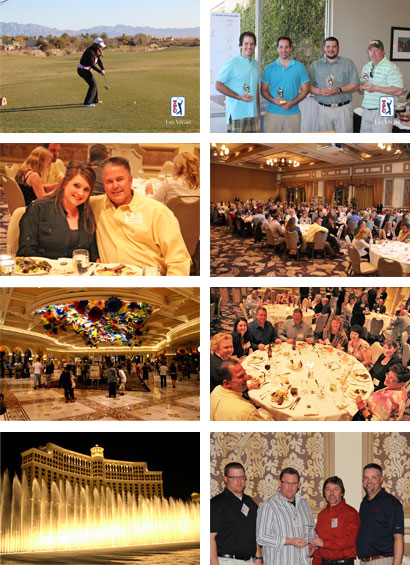 February 9th through 12th we hosted the first PJ Trailers Vegas Challenge at the Bellagio with 57 PJ Dealers in attendance. Each dealer in attendance surpassed their 2011 sales target, sending them to the Bellagio Las Vegas for 3 nights.
We held a golf tournament at the beautiful TPC Las Vegas Golf Course in Summerlin, Nevada. We also hosted a dealer appreciation dinner on site in the Monet room at the Bellagio Friday night. Club level dealer awards were presented to 39 of the attending dealers ranging from Bronze to Triple Platinum.
We want to thank and congratulate all 64 dealers that achieved their 2011 Vegas Challenge target.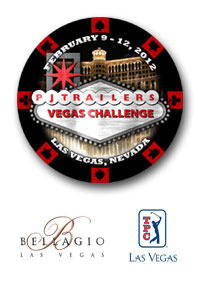 ---
Same Great Trailers, New Names!
February 6, 2012 - By Aaron Barnes
| | |
| --- | --- |
| | We are changing the names of three trailer models to better describe their design. Please note that no specifications or features will be changed, just the product names. |
---
Taskmaster Components
January 31, 2012 - By Aaron Barnes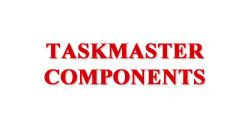 PJ Trailers relies on Taskmaster Components to supply its tire and wheels assemblies. For a third consecutive year, Taskmaster Components has met the demanding quality and delivery requirements PJ Trailers' customers require and will remain a key supplier to the company. PJ Trailers looks forward to continuing its relationship with the entire Taskmaster team as we work together to provide dealers the high-quality trailers their customers need to do their jobs.
---
83" Low-Profile Dump in Action
November 5, 2011 - By Aaron Barnes
Check out this clip of our 83" Low-Profile Dump loading a John Deere 319D skidsteer. Our low-pro dump gives you a 24" deck height, making it very easy to load tractors, skid steers, and other equipment.
---
Navy Seal Foundation
October 28, 2011 - By Aaron Barnes



American Trailer Works, the parent company of PJ Trailers and Carry-On Trailer, recently donated $25,000 to the Navy Seal Foundation on behalf of their dealers.

The Navy Seal Foundation provides support for the members of the Naval Special Warfare community, their spouses and their children. They provide support when active duty members are injured or killed in action and also assist families while their spouses are deployed. The main objective of the Foundation is to provide peace of mind for soldiers that their families will be cared for.

Three American Trailer Works dealers attended the 2011 US Navy Seal Foundation Tribute Celebration at Half Moon Bay, California on behalf of the dealer network. The dealers included Jackssons, Inc. (Albuquerque, NM), Ludens Implement (Humboldt, SD), and Team Trailers Plus (Yerington, NV).
---
PJ Trailers for Rick's Restorations
October 7, 2011 - By Aaron Barnes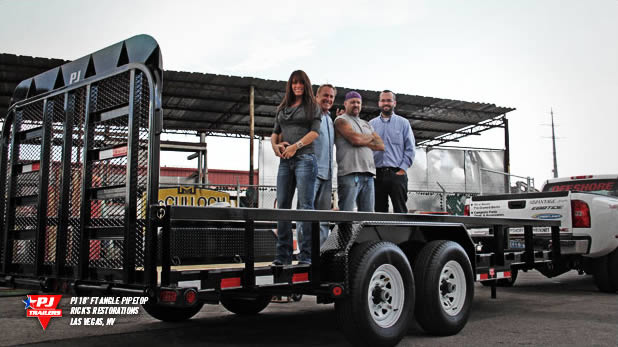 We are extremely excited to welcome Rick Dale of Rick's Restorations in Las Vegas, Nevada into the PJ Trailers family! Last week Rick and his crew received their 2012 Angle Pipetop P8 with a 3" square top rail, Warn winch, and heavy duty ramp gate. If Rick and his crew look familiar you have probably seen them on their hit television show, American Restoration on the History Channel. Rick's Restorations is also the preferred antique restoration company of Las Vegas Gold & Silver Pawn Shop (Pawn Stars).
---
21 New 3D Models Now Online
August 15, 2011 - By Aaron Barnes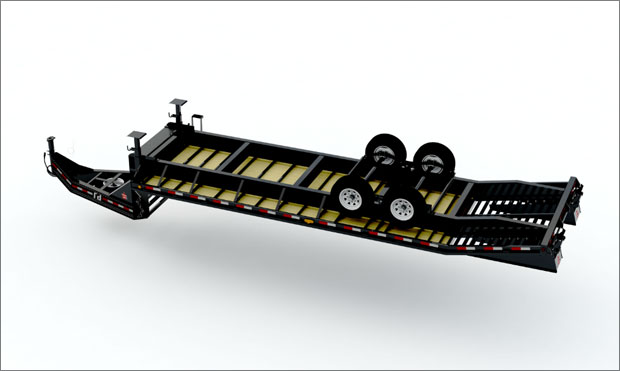 PJ Trailers is pleased to announce the release of 21 additional 3D models to our website.
3D Models Include:
---
Select 3D Models Now Online
January 20, 2011 - By Aaron Barnes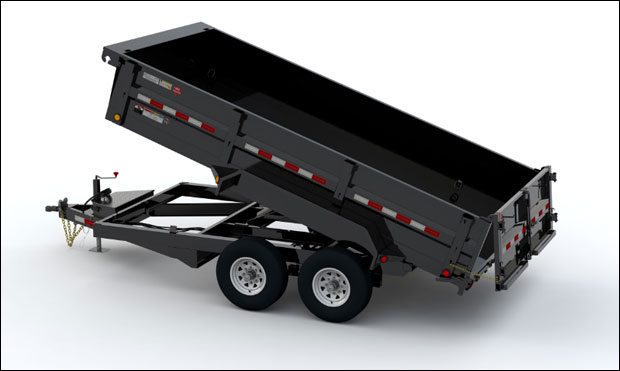 PJ Trailers is pleased to announce the release of our first four 3D trailer models on our website. The new 360 degree viewer has been added to the 60" Utility Dump (D5), 83" Tandem Axle Dump (D7), Classic Flatdeck with Duals (FD), and 8" I-beam Deckover (F8) product pages. Web users can now rotate the trailer 360 degrees, flip the trailer to show the underside, and zoom to show detail.
News